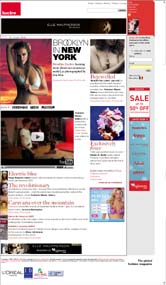 Ten years ago, when
Lucire
started online, short
articles
were the name of the game. Today, I think things have turned 180 degrees.
I find us running longer articles on the web than in print. Online
newspapers
have been doing this for years, and we noticed this becoming a norm after the
scroll wheel
on mice became commonplace: people didn't mind going down the page.
Consequently, blog pages are long. A lot of web pages became long. And why not? Because of
Google
, the more content on a page, the more likely it would suit a particular search result. To heck with æsthetics.
While we run some article previews on
Lucire
, we are finding that the
web
edition is being used by those researching particular topics, while the
print
edition is for "browsing". This is the exact opposite to how the web was perceived 10 years ago, when hobbyists and casual surfers made up the majority of the audience. The web edition is a
knowledge base
.
Web 2·0
designers
might have no problem with this thinking, but I bet some
Web 1·0 ones
will need a shift in their mindset.
Posted by Jack Yan, 03:17
permalink