30.1.07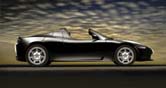 This press release
went out today from our office. I believe it's a good choice, and yes, I did get to vote for this car. I say its win was pretty much a
fait accompli
since mid-2006
.
Tesla Roadster is Lucire's 'Car to Be Seen in' for '07
Wellington and New York, January 29 (JY&A Media) The Tesla Roadster, the innovative all-electric sports car from San Carlos, Calif.-based Tesla Motors, has been named Lucire's 'Car to Be Seen in' for 2007.
Lucire, an international fashion magazine headquartered in New Zealand, recognizes not only the Roadster's environmental claims, but how it suits a globally minded and fashionable woman of 2007.
'Lucire readers are always a step ahead,' says publisher Jack Yan. 'The Tesla Roadster is the sort of vehicle they would drive in order to express their early-adopting nature.
'This year, we finally have a car that not only embodies style, but one which is totally in line with the values of Lucire.'
The print article about the announcement appears in the next issue (number 22) of Lucire, although the online version is already live at lucire.com/2007/0121ll0.shtml.
While a "regular" fashion magazine, Lucire is the first fashion partner of the United Nations Environment Programme (UNEP), an arrangement that dates from 2003.
The Tesla Roadster has been one of the most talked-about vehicles of 2006. Deliveries of the electric-powered, California-developed sports car begin in summer 2007. It was developed by an international team based in the US, Britain and the Republic of China.
In 2000, Lucire announced its first Car to Be Seen in for the following year, the Audi A4 Avant. It was chosen as a backlash to the popularity of the SUV.
Subsequent years have seen cars from Peugeots to Aston Martins chosen. Despite the environmental focus, the Toyota Prius has never scooped the top award, though it has been a finalist.
Posted by Jack Yan, 10:56
permalink
Links to this post:
Note
Entries from 2006 to the end of 2009 were done on the Blogger service. As of January 1, 2010, this blog has shifted to a Wordpress installation, with the latest posts here.
With Blogger ceasing to support FTP publishing on May 1, I have decided to turn these older pages in to an archive, so you will no longer be able to enter comments. However, you can comment on entries posted after January 1, 2010.
Quick links
Add feeds





+
Previous posts