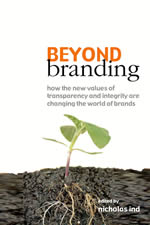 Yesterday, I discovered that the
Beyond Branding Blog
home page has disappeared. I get 404s, and there's no discernible reason for this.
Johnnie Moore
and I are the main admins, and neither of us has removed or modified the site. The archive pages are there, as are all 600 posts. Blogger's set-up pages are all there, as is the template.
It makes me more of a convert to
Wordpress
—and the
Lucire Insider blog
is becoming a more comfortable place to post.
I've fed a query to Blogger, so let's hope we'll hear back. While the blog is not current, there are still many good posts there that deserve to be accessible.
Posted by Jack Yan, 02:31
permalink