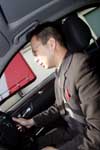 Martin Payne has very kindly published my
online branding paper
at
Pool
, writing a very nice introduction to the piece
at the site
:
When use of the Web started to become commonplace, many claimed that it would never be possible to build brands on-line and that traditional marketing tools will still be required. Others including the Pool editor disagreed with this view. Since then, many brands have been established using on-line media only and have become larger than off-line rivals. Jack Yan's article notes the way in which the on-line medium can be used to build brands in a different way.
It was also a delight—since the 19th is my birthday—to have spotted
my blogging story at Toby Bloomberg's Blogger Stories
(he also publishes
The Diva Marketing Blog
). While I believe in
social media
, I admit I was a
blog
sceptic
for a long time. Toby leads with that, and then allows me to tell my blogging story in my own words, and how I did not believe the
community
was there in the
blogosphere
till recently. I hope you enjoy them.
Posted by Jack Yan, 18:57
permalink