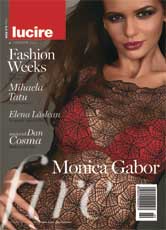 It's nice to get this level of cooperation from the
mass media
:
Lucire Romania
's party last Friday was attended by many of our
media
colleagues, and has hit the pages throughout the country. I'm sure the appearance of
model
Monica Gabor
, her boyfriend businessman
Irinel Columbeanu
, and celebrity
Mihaela Tatu
helped, but I credit a great deal to our team there, led by Valentin and Mirella Lapescu.
The latest
Romanian
issue features Miss Gabor
en couverture
(
left
), the first time we've had a cover depart from the
global
issues'. The content remains the same, with the addition of some
localized
pieces—the
philosophy
was, from the beginning, to create a global title where the features would unite the planet. I still believe we can,
even if I have the odd moaning session
.
The rationale this time was that we needed a local
celebrity
, and Miss Gabor was considered to be most worthy. It goes a little away from my vision; however, I back up Mirella and Valentin's decision: there are
marketing
reasons behind it, it helped cement us in the eyes of the Romanian
mainstream media
, and it was actually quite well shot. They had selected a top
photographer
, so we were fortunate.
Such talent does exist in
New Zealand
, but the trouble tends to be the small population: finding the top make-up artist, stylist, model and photographer in one place isn't that easy. Hence,
Kiwi
covers tend to be shot in
New York
or, very occasionally,
Los Angeles
.
While I had some initial resistance to the idea of a separate cover, I have to say I like the egotistical element. Having a
magazine
with the same cover (albeit in different languages) gives a feeling of satisfaction that your principles are being propagated. Having a magazine with different covers appeals directly to the ego, because while you still did the work inside, it gives you the impression that you did twice as much. In this day and age, however,
where Business Week has given up the idea of separate editions
, I believe my original idea is right.
Therefore, the New Zealand and
American
editions, whose covers are presently photographed by
Gray Scott
of Veritas Management, should share their cover image, due to the quality of Gray's work. A long time ago, we received some criticism that we should put on local
celebrities
—
Charlotte Dawson
was even suggested in the early days, though she has since emigrated to
Australia
. However, I question whether she is a "
Lucire
girl". I won't put on a celeb just for the sake of having one on the cover. I am not alone: at one meeting with an ad agency, the idea of Sally Ridge, who had appeared on a
Fashion Quarterly
cover months before, was universally panned.
Carol Hirschfeld
is the only "face" that comes close, and she knows this, but we haven't been able to work out when, where, how and by whom. To date, we still have not shot a cover in New Zealand.
As the New Zealand edition of
Lucire
is the "master edition", we have to be
globally minded
, supplying to the world—which, regrettably, puts paid to the idea of a celebrity cover featuring a
New Zealander
, unless it happened to be a New Zealander who was globally known.
We haven't called
Rachel Hunter
yet, since I assume we can't match
Sports Illustrated
's payments. Ditto
Lucy Lawless
.
Del.icio.us tags: Lucire | Romania | media | cover | model | celebrity | New Zealand | fashion magazine | magazine
Posted by Jack Yan, 10:28
permalink