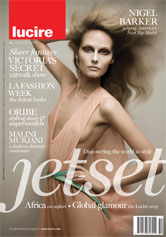 There are plenty of studies on
country-of-origin
research, but
New Zealand
is kind of an enigma, even after living here for nearly 30 years. Today, I checked the binding for the next issue of
Lucire
's New Zealand edition, and found myself thinking that I should put the nation's name in there.
For the magazine's print history, I had resisted this move. I had been advised to put 'New Zealand edition' because no one, I was told, knew that
Lucire
was from that country. I thought that worked against what the
magazine
stood for: the world's first truly
global
fashion magazine
, where the stories are shared across all editions (never mind I only had the one print one back then).
My rationale was also historic.
Vogue
, for example, does not always put the country inside the capital
O
. Certainly the original edition does not call itself
American Vogue
, even if some of the public does—that would be like saying 'French
champagne
'.
Harper's Bazaar
is the same. Ditto
Elle
. So, in this world, why should the lead edition of
Lucire
be called
Lucire New Zealand
?
However, we have a problem. Our low opinion of ourselves. The disbelief that, for example, I had the
print
media
licked when it came to
online
. In print, how could any New Zealander be capable of leading? Ha!
Despite the
America's Cup
successes and
The Lord of the Rings
, for the first year of the magazine's print existence in New Zealand, a lot of people thought I had
licensed
a foreign title. Or that the magazine is foreign. Because I stood on fresh ground that no one had trodden on before, and no one had peed on it. It was too hard to be believed.
Never mind that with each issue we ran
posters
shouting our country of origin: just last month a New Zealander answered our country of origin question on our subscription form with 'Spain'.
We have a higher opinion of Spaniards than of ourselves.
I am just a regular Joe. I'm not a Bill Gates-type figure with inherited money and software patents. So today, I relented a little. The words 'New Zealand' appear on the spine of
Lucire
's next issue, if the editor-in-chief agrees. We might as well pretend to be a
second-tier
nation
if no one believes we can be a first-tier one.
What gets me is how many foreign companies do manage to pretend to be Kiwi just by "being average", including
Fashion Quarterly
(
not
Jeanne Beker
's one), which might have been started by a New Zealander, but is ultimately owned by the late Kerry Packer's family in
Australia
. And the usual: Just Juice, Eta, Griffin's—all French. Yet a lot of the
Kiwis
I
know are among the brightest people in the world. Also the most decent, by a country mile. Being first-tier should be
normal
. Do I just hang around a different crowd?
Del.icio.us tags: country of origin | Lucire | New Zealand | fashion magazines | tall poppy syndrome
Posted by Jack Yan, 11:38
permalink