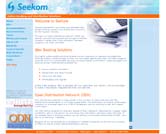 The following is a release
our company
issued on behalf of some friends of mine.
We've been helping
Seekom
for many years and we even put their original
logo
together back in 2002. The idea is very clever and obvious: a lot of
online
booking
systems
for
hotels
and rental cars are based on probability algorithms. Seekom's system is real-time, based on actual, confirmed bookings.
Back in 2002 this was revolutionary, though others are muscling in to this patch these days. Still, Seekom has some big clients and partnership deals, and the below is its latest. I think the world of this system and obviously, it had to come out of
New Zealand
.
I know some of this gets into nerd-speak later, but the idea is still an amazingly sound one. If any blog readers here are in the hospitality industry where bookings are important, then I can recommend this system. Additionally, Seekom doesn't want to compete and offer bookings itself: it is quite happy to be the technology powering others' sites.
Seekom and Callista launch revolutionary automatic internet booking facility for Callista Hospitality
Wellington, July 10 (JY&A Media) Booking and distribution system developer Seekom Ltd. and the Callista Group, have joined forces to add a sophisticated and revolutionary automatic internet-booking facility and sales channel distribution system to Callista's Hospitality system, it was announced today.
Callista's customers can now use the Seekom iBex (Internet Booking Exchange) module which directly interfaces with Callista Hospitality, a front-desk reservation system, on a set-and-forget basis.
Innovatively and uniquely, Seekom's and Callista's systems can exchange available inventory and bookings in real time. Any bookings received via iBex are automatically and seamlessly entered into Callista's system without the need for any user intervention at all.
This allows Callista customers to not only sell directly from their website but they now can provide a direct interface to an unlimited number of sales channels who can access this inventory on a first come, first served basis.
'We chose Seekom not only because they had the most sophisticated web booking system on the market but they they are a technology company who do not sell in competition with our customers' sales channels,' says Roger Ansin, Callista's Managing Director. 'Unlike other providers, Seekom gives us the ability to create and provide a fully automated interface. Now internet booking for our customers can be completely automatic, and completely transparent,' says Mr Ansin.
'Callista's customers no longer need to rely on an allotment-based supply of inventory, effectively increasing the amount of inventory they can sell. For Callista customers, it minimizes the problem of having unsold rooms and eliminates the need to log into their resellers' systems to manually update rates and inventory,' says Simon Casey, Managing Director of Seekom. 'In addition, Callista customers and channel members won't know Seekom is there: to them, it will be seamless,' says Mr Casey.
Seekom's ability to cope with scale is particularly appealing to Callista. Callista has over 600 accommodation operators using its system in New Zealand, and has customers in 17 other countries including Australia and the UK. Since it released a major upgrade to its Callista Hospitality system in December 2006, properties with a combined total of 13,000 rooms, have so far moved to the latest version of the system, paving the way for easy access to the Seekom–Callista internet booking interface.

Behind the technology
Mr Casey says that Seekom's advantage is its ability to connect tourism suppliers and sales channels in real time using XML interfacing. When a booking is made by a customer or sales agent, the hospitality property knows about it instantly. A pop-up appears in Callista Hospitality advising that a new booking has been received—instantly and automatically—and they will see the booking and details already loaded. Similarly, if a booking is entered directly into Callista Hospitality, Seekom's iBex is instantly and automatically updated with these changes.
In addition, Seekom's iBex can provide instant inventory confirmations to various sales channels in one go. It also minimizes the problem of having unsold inventory. In traditional "fixed allocation" systems, even on the internet, hospitality properties must deal with agents and customers separately which means they don't have an instant understanding about what has been booked.
Fixed allocation systems also cause massive dilemmas for tourism suppliers which usually mean they have to guess how many rooms or inventory to make available to their resellers leaving these rooms ring-fenced and unavailable for sale by any other means. This situation also means that hospitality properties are constantly uncertain about which of their rooms they can even sell themselves. Moreover, they also need to manually log in to a reseller's website to check on progress or to provide updates.
The Callista–Seekom interface eliminates all of this uncertainty and confusion by allowing hospitality properties to make all of their rooms available all of the time across the widest possible platform including their own website—and the whole process is automatic.

The technical aspects
Seekom's booking system, iBex (Internet Booking Exchange), uses
industry-standard XML technology to interconnect with other computer booking systems. A wholesaler or agent can read a hospitality property's rates and availability in real time and the hospitality property's booking system or property management system can be immediately updated with bookings from sales channels.
Posted by Jack Yan, 00:33
permalink