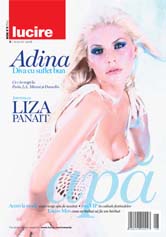 A new
brochureware
site for the
Lucire print edition
went online today, with one interesting twist: the
licensing
programme. In the past, we have pursued a very conventional programme (pay a
licence fee
, then a
royalty
), but since we're a small company, surely we need to
differentiate
?
In the rush to market in 2004, we resorted to conventional, tried-again behaviour, but the reality was quite different when we started
Lucire Romania
. This second print edition of
Lucire
did not follow the conventional model—confidentiality prevents me from saying more—so why not re-examine the programme and do something very different from everyone else? The product, for starters, is distinctive. Secondly, all members of the
JY&A
group have done things in a unique way, and with our bringing
Lucire
into the Jack Yan & Associates fold (at least production-wise), why not have that culture impact on the
magazine
?
So how does this grab readers? Free licensing, for the first issue. Try before you buy.
Of course, there are quite a lot of conditions attached to this, especially surrounding
intellectual property
and legal fees that the licensee has to pay, but it demonstrates one thing: the confidence of the
publisher
in the product. Secondly, by taking money out of the first equation—not completely, but in quite a major way—it helps build every single party: the licensor, the licensee, and the reading public.
The first group gets bragging rights; the second group needs slightly less capital and feels part of a family; and the third group benefit from an extra title on the newsstands.
There are down sides and they are founded on
trust
. So, how much can we trust someone else, and will the fashion world, for once, not attract delusional people with ideas of grandeur? I am betting on it. That's another reason we are different.
Posted by Jack Yan, 23:00
permalink