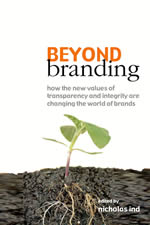 My only copy of
Beyond Branding
, the book I co-wrote with my
Medinge
colleagues, has gone missing. I expected that I may have lent it to staff, but tonight, my curiosity got the better of me: what else is missing?
The following books are missing from this office, and there's no way that they
all
could have been loaned. Some cash has gone missing, too. If anyone has bought them from a single seller in
New Zealand
, then you may have bought stolen goods. None were available on general retail sale here.
I have no recourse legally under New Zealand law if you were a
bona fide
buyer, so I won't be going after you. But I do want to get to the bottom of this theft and will be reporting it to the police on Monday.
• N. Ind (ed.):
Beyond Branding: How the New Values of Transparency and Integrity Are Changing the World of Brands
, 1st ed. London: Kogan Page 2003.
• M. Kelly:
The Divine Right of Capital: Dethroning the Corporate Aristocracy
. San Francisco: Berrett–Koehler 2001.
• R. Mathews and W. Wacker:
The Deviant's Advantage: How Fringe Ideas Create Mass Markets
. New York: Crown Business Publications 2002.
• M. Lewis:
Next: the Future Just Happened
. New York: W. W. Norton 2001.
• J. Yan:
Typography and Branding
. Christchurch: Natcoll Publishing 2005.
By coincidence, the missing books are ones that I do not have signed by their authors, and were in excellent condition. So someone knew what they were taking and had the opportunity to inspect them.
My second copy of
Typography and Branding
is still here, luckily. It was a very limited edition and probably can't be replaced.
If anyone wants to donate old copies, I will gratefully accept! I normally would pick them up while travelling, and I can't justify the shipping expense for replacements while here in New Zealand. Call me a tightwad.
Posted by Jack Yan, 15:01
permalink