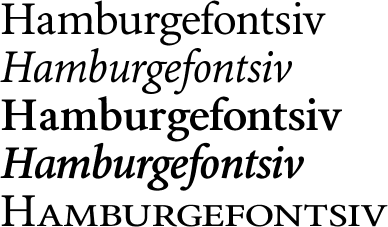 I don't know why we didn't mention it before, but
it's finally been rectified
on
the JY&A Fonts site
.
For a good part of my
type
design
career, the legal issues surrounding
typography
have fascinated me. A few people knew I had this love, and since the 1990s I've done a few cases involving typeface design,
trade marks
and typography.
Mostly it's been expert witness work in trade mark disputes, and there have been cases where my testimony has been needed to determine whether there would be confusion in the market-place or sufficient differentiation. Occasionally there are the fun ones, where I've been asked to determine if a particular document could have been typeset at the time the party claims. There have been legal opinions on the
intellectual property
protection over designs and metrics.
People who hired me to do this work either knew I had a knack for legal work anyway, usually through the
branding
side of my expertise—and found this out by accident. Others knew, but they tended to be friends and colleagues who already had a connection to type.
To me, it's more fun than being a solicitor as I can legitimately pick and choose cases with the expert witness work—I won't be a witness if I can't support the client referred to me, and attorneys run things by me first.
I always go on about differentiation being a cornerstone of
branding
and it amazes me that one of the big differentiators of
my own company
wasn't noted. It is partly true that we spend time seeing to our clients and not to ourselves.
Posted by Jack Yan, 03:39
permalink