[
Cross-posted
] John Mennell of MagazineLiteracy.org sent out the nicest email a few days back. I am feeling unwell, so I have decided to copy and paste. Besides, I want folks to pop by
Mike Swenson's blog post
that John refers to.
Running a fashion
magazine
does mean being aware, and doing something about, the
social
causes that affect us—and John's venture is one of the best suited. Plus, it is a good cause:
literacy
is vital, and I am still shocked on how some parents do not know they have
illiterate
kids, even down here in
New Zealand
. I was told of one case very recently in
Auckland
, where an 11-year-old still cannot read, yet had been going up the grades as though he could.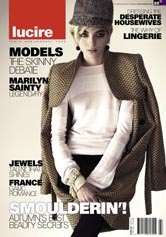 Jack Yan is the wonderful publisher of Lucire magazine who has be selflessly promoting our work since the moment we met on our anniversary—International Literacy Day, 2005. He introduced us to Stacie J, a wonderful friend, actor, model, and entrepreneur who sends Time for Kids to 60 children in an after school program in Harlem, and … thanks to his relentless support and outreach, Mike Swenson, a national guru on cause related marketing. Check out Mike's compelling blog post today about feeding kids hungry to read and succeed:

http://citizenbrand.typepad.com/swenson/2007/04/
magazines_for_k.html

I've been blogging a bit more and will continue with this outreach into the blogosphere:

http://magazineliteracy.org/blog/

Our focus this year is engaging magazine consumers for celebrations around key events—magazine reuse on Earth Day … recruiting magazine publishing champions for International Literacy Day … and getting magazines into the hands, homes, and hearts of children learning to love to read during Children's Magazine Month in October.
It's well established that cause related marketing increases consumer interest, engagement, appreciation, and enjoyment of associated products. Our fundamental strategy for raising the sustainable revenue necessary to support our literacy programs year after year is to be ubiquitous in this mutually beneficial marketplace.
Sadly, children's reading and literacy scores in U.S. schools are not improving. More than 85 million adults in the U.S. have low or very low literacy skills. These adults were once children who did not get the chance to learn how to read. In schools today, 1 in 3 children overall lack basic reading skills, with 2 in 3 falling short of reading proficiency. The disparity between children in poverty and their better off peers is even larger. When those who qualify for the Federal Free and Reduced Price Lunch program are considered, which includes children in families with incomes up to twice the national poverty rate, half of these children lack basic reading skills and only 1 in 6 reads at a proficient level. A child cannot do well in any school subject or in life without learning how to read. An illiterate adult cannot read a job application or a cereal box.
I launched the MagazineLiteracy.org campaign because something very big and wonderful was poised to deliver its full promise on the American literacy landscape—all those colorful, topical, engaging magazines that called to each of us as children and instilled a love that draws us irresistibly to our mailboxes and to every nearby newsstand. There is a mission critical role here for every magazine industry thought leader and stakeholder.
Hold on to your hats. We are going for an amazing journey!

John
John Mennell
Founding Director
MagazineLiteracy.org
66 Witherspoon St., No. 207
Princeton, NJ 08542
609.651.4340

To learn more about feeding kids hungry to read and succeed

Industry Portal: http://partners.MagazineLiteracy.org/
Consumer Portal: http://MagazineLiteracy.org/
Children's Magazine Month: http://childmagmonth.org/
Posted by Jack Yan, 11:41
permalink