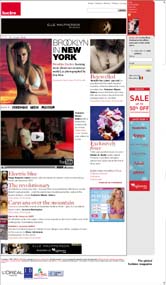 As I was updating
my Vox blog
—the one with 'personal addenda',
I was reminded
that around seven years ago, Condé Nast advertised on
Lucire
. To drive traffic to its new Style.com portal, it needed more legitimate, well established sites to get folks there. And we were one of them.
But for years, perhaps till quite recently,
Alexa Internet stats
indicated that
lucire.com
outranked vogue.com, and I believe we still are ahead of Condé Nast properties when it comes to a search for
"fashion magazine"
in
Google
.
I know I have been blogging about
Lucire online
these last few days, but that is where I have been—it's back into the font and print
magazine
businesses tomorrow, for catch-up work.
Anyway, these stats are nothing surprising, and they are a matter of record. But I remember when one of my staff went to see a
cosmetics'
company here in
New Zealand
. I won't reveal the
brand
, but it is quite well respected. I will say it was not
L'Oréal
, which has been with us since the online-only days.
The woman at this company said it was 'impossible' that a New Zealand site would outrank an American one, that what she was being told was essentially BS.
This is after we won the
America
's Cup in yachting the second time and after
Peter Jackson
began releasing his
Lord of the Rings
movies. And long after Edmund Hillary climbed Mt Everest, for crying out loud. (For the record, that was
after
Sen. Clinton was born.)
No matter how we succeed, there are still
New Zealanders
who think we can't do anything. It's 2007, woman.
That company still does not advertise with
Lucire
, and continues to peddle its goods with a
media strategy
that McMahon & Tate could have written
when Darrin No. 1 worked there
.
But it's that backward, only-foreigners-can-do-it-for-us thinking that is driving this nation into the water. Which is dangerous, since we are on an island already.
Whomever we vote next time, let's vote for someone who can put the
pride
and can-do attitude back into this
nation
, and let that
enthusiasm
infect others abroad.
Posted by Jack Yan, 10:09
permalink