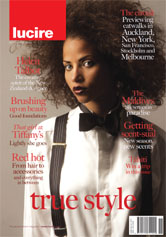 I never thought this blog would go around rivalling
Hollywood
and
New York
gossip
columns, but I hear that
Kimora Lee Simmons
won't appear in a
Lucire
feature (she gets into the 'Scene' pages, however). I understand from
Lucire
's editor-in-chief that
celebrity
director
Brad Batory
on our team asked. The reason? Our first (public)
print edition
cover girl,
Denise Vasi
, is the young lady who's now seeing her estranged husband,
Russell Simmons
.
It seems Mrs Simmons feels she would be following in Miss Vasi's footsteps, and she doesn't want to do that, though if I were her, I'd see it along these lines:
Lucire
is better today than it was in November 2004. So in its evolution, it now goes for Kimora Lee.
Mind you, I know Denise, and she's one of the most charming and delectable creatures on the planet. There's no way I'd diss her ever, because in my circles, she's never been anything but a top lady and a great
model
. And I admit that she has the same effect on men as lava has on a Ben & Jerry's ice-cream.
Naturally
she was one of our guests at our anniversary party
last year in New York, being our first cover girl. (There was also some pride from
African–American
fashionistas
that we débuted with a
minority
.) And it seems to indicate that
Lucire
has as much luck in spotting
future talent
in print as we always had online. It's the old "
Lucire
cover blessing" that held online for years.
It's hard not to take sides here when one party doesn't want to appear, even though we have given Kimora Lee and her
jewellery
company (the
Simmons Jewelry Company
—I even Americanize my spelling for her) a huge boost in our shoots and in our news coverage. C'mon, lass, you'll be great in our pages. Remember the
Lucire
cover blessing.
Del.icio.us tags: Kimora Lee Simmons Denise Vasi Lucire Russell Simmons
Posted by Jack Yan, 10:38
permalink